Welcome to QUEST!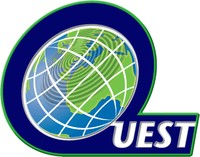 QUEST (QUantitative Estimation of Earth's Seismic Sources and STructure) is an Initial Training Network in computational seismology funded within the 7th Framework People Programme by the European Commission. The starting date for the 4-year project is December 1, 2009. QUEST builds on research carried out in a previous training network SPICE and is tightly connected to other EU initiatives such as NERIES and EPOS.
To stay informed about all the activities within the QUEST project, we invite you to register for our general announcement mailing list info@quest-itn.org. Further lists are provided for the internal communication of all QUEST researchers, lead scientists and administration.

We dedicate this project to the memory of Prof. Albert Tarantola (1949-2009) who has pioneered the development of probabilistic methods to solve inverse problems and in particular their applications to geophysical problems. Albert was a key supporter in the preparation phase of the QUEST project. The project acronym "QUEST" is a reference to the classic paper on probabilistic inverse problems:  Inverse Problems = Quest for Information, by Albert Tarantola and Bernard Valette. J. geophys., 50, p 159-170, 1982.
Recent News & Upcoming Events
See also All News or All Events.
University College London - Department of Earth Sciences

The Department of Earth and Environmental Sciences (Geophysics Section) at the Ludwig-Maximilians-University of Munich, Germany, is seeking applications from enthusiastic young researchers for an assistant professorship in seismology.

The seismology group at Utrecht University is seeking motivated and enthusiastic candidates for 2 PhD and 2 postdoc positions commencing as soon as possible.

The Department of Earth Sciences is currently looking for an Assistant Professor in seismology.

 
Document Actions