Social Programme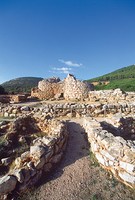 The social programme consists of:
ice-breaker on Sunday 19th of September
free afternoon on Wednesday 22nd of September with choice of a historic visit to the Necropolis Anghelu Ruju and the Nuraghe Palmavera or a boat trip to the Neptune's Cave. The Necropolis is an ancient burial ground with 38 hypogea, dating back to the late Neolithic period (3000 BC). The pre-historic complex plays host to numerous Domus de Janas (tombs) and is one of the most important archaeological sites on the island of Sardinia. The Nuraghe are prehistoric dwellings, dating back to the bronze age. Their igloo-like shape is unique in Sardinia. The Neptune's Cave, carved out of the spectacular promontory of Capo Caccia, is the biggest natural attraction of the Alghero area and is visited every year by thousands of tourists attracted by its beauty. Both excursions will end up in Alghero with a visit of its pictoresque historical center.

Conference Dinner on Thursday 23rd of September
Football match on Friday evening 24th of September
Traditional Sardinian Dinner on Saturday 25th of September
Document Actions