Getting to Iceland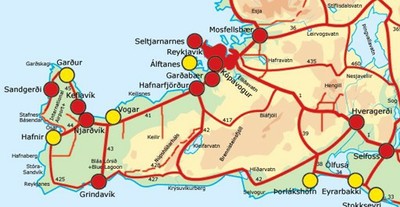 The best way of getting to Iceland is obviously by flight. The international airport is Keflavik which is in the South West of the country about 40 km from Reykjavik.
Reaching Iceland by air
Direct flights from New York City, Boston, Minneapolis, Orlando, Baltimore, San Francisco and most major European countries namely, Amsterdam, Barcelona, Berlin, Bologna, Cologne-Bonn, Dublin, Eindhoven, Frankfurt, Geneva, Helsinki, London, Oslo, Madrid, Manchester, Milan, Munich, Paris, Prag, Stockholm and Zurich airports are available. This is mainly because Iceland Air uses Keflavik as a hub.
Another option of getting to Iceland is to take the low cost airline Iceland Express which flies from Copenhagen and London (Stansted) to Keflavik. It gives additional service during the summer months to Frankfurt Hahn, Berlin Schönefeld, Friedrichshafen, Alicante, Gothenburg and Stockholm Arlanda.
For more information about airlines serving Keflavik and arrival/departures timetable please click on the following link:
Reaching Iceland by sea
Getting to Iceland by boat is another option though it takes longer than by plane. It's possible to reach  Iceland by comfortable cruise ferry between April and October each year. The best place to pick up the Iceland ferry is in Hirtshals, Denmark. The Smyril Line is the ferry operator between Hirtshals and Seyðisfjørður (east coast).
Document Actions