Venue and Accommodation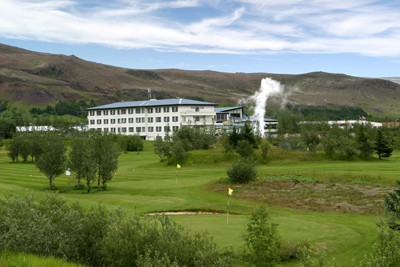 The QUEST workshop 2011 will be held at the Hotel Örk, only 45km from Reykjavik. Hotel Örk is a country hotel located in Hveragerdi, a small village often called Iceland´s "Health village". The present horticultural and greenhouse town Hveragerdi started developing in 1902, when a carding factory was built at the waterfall Reykjafoss.The natural thermal area in the centre of the village was harnessed for the heating of greenhouses and dwellings. Nowhere else in the country are there more greenhouses in a limited area than in Hveragerdi.
Room arrangements break down as follow:
Single Room: ca. 140 EUR per night

Double Room: ca. 115 EUR per night per person

All prices include FULL-BOARD (accommodation, breakfast, lunch, dinner)
Hotel arrangements will take place - via online pre-registration form - ONLY through the QUEST coordination office. Because of the limitation of single rooms we STRONGLY encourage the use of double rooms. Therefore indicate please on the online registration form your choice of room arrangement and with whom you would like to share. Online registration will be opened soon.
For more information about the town of Hveragerdi , please click here.
Document Actions