Venue and Accommodation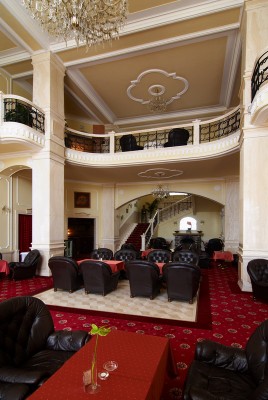 The QUEST workshop 2012 will be held at the Grandhotel Praha situated in the heart of an imposing  but still virgin scenery of the High Tatras. Grandhotel Praha is an attractive, historical hotel, apart from being one of the oldest hotels in Slovakia. It was built in 1905 in the Art Nouveau style for the necessity of the Hungarian nobility. Located at the foot of Lomnický Peak at an altitude of 908 m, the hotel not only brought a well-off clientele to the region but also played a significant role in the growth of sport industry in the Tatras.
Room arrangements break down as follow:
Single Room: ca. 90 EUR per night

Double Room: ca. 101 EUR per night

Standard Suite: ca. 121 EUR per night

Luxury Suite: ca. 141 EUR per night

All prices include FULL-BOARD (accommodation, breakfast, lunch, dinner)
Hotel arrangements will take place - via online pre-registration form - ONLY through the QUEST coordination office. Because of the limitation of single rooms we STRONGLY encourage the use of double rooms. Therefore indicate please on the online registration form your choice of room arrangement and with whom you would like to share.
Online registration will be opened soon.
For more information about the town of Tatranska Lomnica , please click here.
Document Actions